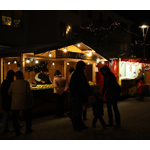 The Christmas Market in Friedrichsdorf takes place on Saturday, 17th December (11am-10pm) and Sunday, 18th December, 2011 (10am-9pm).
It is being held on the Landgrafenplatz, at one end of the main shopping area.
Friedrichsdorf can be reached by car using the B455 road, or by train from Frankfurt by line S5.  The station is also served by the Taunusbahn.