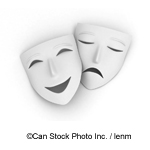 The Datterich will be playing on the open-air stage at the Hohemarkklinik at 8pm on Fridays and Saturday starting on 11th June and finishing on 16th July.
The play is in the local Hessian dialect, and is set in the town of Oberursel itself with lots of recognisable locations mentioned.
To get there by U-Bahn, take the U3 to the end of the link ("Hohemark") from where it is a short walk.
To order tickets online, click here.