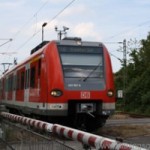 Between 17th July and 10th August (2012) maintenance work is being carried out in the railway tunnel in Frankfurt through which the S-Bahn trains run.  The S5 from Oberursel to Frankfurt is one of the lines affected.
As a result Sunday services and those after around 11.30pm on other days will not be taking the normal route.  Instead they will be diverted in Frankfurt-Rödelheim, missing out the stations "West", "Messe" and "Galluswarte", and terminating at Frankfurt Hauptbahnhof on the main level rather than the usual underground platforms.
A number of S-Bahn trains will continue to run through the tunnel, although these services will be limited.
To get to Frankfurt from Oberursel during this time, it will probably make more sense to use the U-Bahn (U3) and change in Frankfurt as necessary.