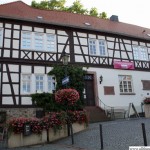 The workshop at the Vortaunusmuseum was broken into on Thursday morning, 11th July, 2013.
According to police the thief or thieves made their way into the building using the entrance on  the inner courtyard and from their to the workshop where they stole a metal case containing a rotary cutter ("router") and accessories.
Anyone with information is asked to Oberursel's police station on 06171 642400.