Classical tractor fans had a chance to see a selection of makes and models at the Bickert family's maize maze (Maislabyrinth) in Weißkirchen last Sunday.
Not only were there ten "normal" tractors from the area, the oldest of which being a Hanomag type R35 without hydraulics built in 1953 and followed by the model "Robust" of the same make and built in 1962.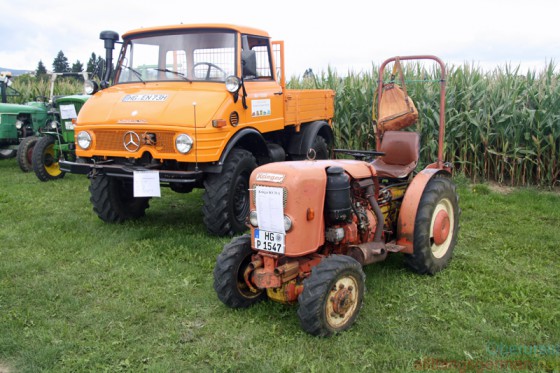 Unimog 421/U52 (left) and Krieger KS30A Schmalspurschlepper
Other vehicles were also on show, that had previously been used in a farming capacity.  There was a Dodge Pickup B4B, which had also been built in 1953, and shone in blue next to the yellow caravan at the entrance to the maze.  The Unimog 421/U52, built in 1978, had been given additional "field equiment", and the Krieger KS30A "Schmalspurschlepper" – meaning narrow track tractor – built in 1972, were both popular with the visitors.  The small tractor is also known as as "vineyard tractor" and such models are often used by wine growers on their narrow slopes.  The manufacturer was still producing them until May of this year when they registered for bankruptcy.
At 2pm the tractors were presented to the visitors one at a time and their details explained.  For those who did not just want to look at a tractors, there were rides in trailers to be had.  These went along the tracks between the fields to the Krebsmühle, followed along the motorway before turning back towards the maze and giving a good view of Weißkirchen's water tower – a journey of around 25 minutes.
But for 11-year-old Finn the day was also a chance to show what he could do on a tractor, as he was allowed to drive a Fendt 230 GT with 230PS built in 1966, and used it for a ploughing demonstration.  And for younger guests, who were not so interested in all the historical and technical details there were a variety of toy tractors to play with.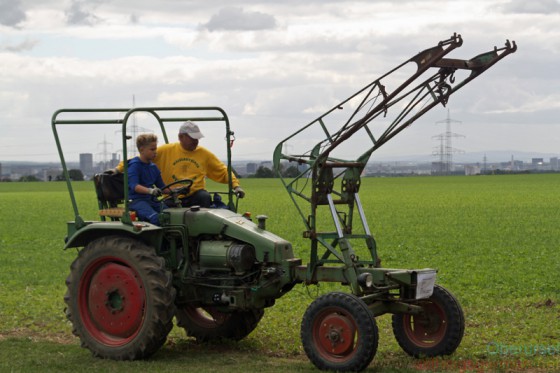 Finn with maze owner Richard Bickert on a Fendt 230 GT
The next special event at the maze is on Sunday, 13th September, 2015 and is the "Kräutertag" when everything revolves around the traditional green sauce.
This article appeared in German in the Oberurseler Woche on Thursday, 10th September, 2015.