I should have been suspicious when we tried to book a table for lunch and had to try several times to get through and avoid the answerphone.
I have eaten at the "Red Cow" in Sandwich on a number of occasions previously and was always very happy with my meal, in particular the "Hunter's Chicken".
So I got a shock to find out last week that things had changed – in my opinion for the worse.
There was no menu outside in the usual display to read. I thought this was because the outside was being repainted, but once inside the restaurant part there were no menus either. The reason was quite simple: there are no menus that can be distributed to the guests – the waitress arrived with two blackboards and stood them up on chairs at the corner of the table for us to look at!
No Hunter's Chicken for me this time – the menu had been severely reduced to a number of basic items. There was a choice of baked potatoes, salads, steaks and other "meat & veg" dishes. And they all fitted on those two blackboards.
We asked if they had a child's menu for our 5-year old daughter. After all, the sign on the door had said "children are welcome". They did not, however, possess such a thing and offered her chicken nuggets with chips. As an alternative she could have a 1/2 portion of most items on the menu.
There were also "chicken strips" on the menu, served with salad and a chilli dip. We asked if that was with chips or any other form of potato – no, that was extra. Oh, and the strips were in beer batter, but the menu didn't mention that.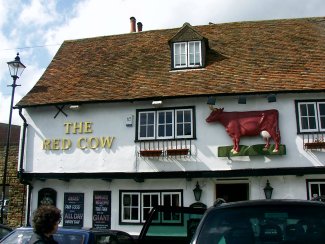 The Red Cow in Sandwich
(photographed in 2007)
I decided to play it safe and ordered a baked potato with beans and salad for just over 5GBP. I got just that! A baked potato (which I suspect had been cooked in a microwave oven) in a dish with some baked beans on it. The salad consisted of two lettuce leaves, a few strips of red and green peppers and some slices of a spring onion. It was more of a garnish than a salad! And it didn't taste fresh either!
As the other meals arrived, those that had ordered steak were given sharp knives. Now, I learnt very early on in life not to point knives at people. Unfortunately the staff had not learnt this lesson yet, as they put at least one of the knives on the table with the sharp-end pointing towards the person sitting in front of it.
The "chips" turned out to be what I would call "wedges", the "chicken strips" were, in my opinion, borderline as although they were cooked sufficiently to be white inside, they were still very moist. Generally I found the portions to be small considering the price of the food.
I was wondering what to say when the waitress came to ask if everything was OK. But she never asked…