I was in Madrid last weekend for the Great Madrid Escape, when on Saturday afternoon – with not too much to due thanks to the weather – I ventured out of my hotel only to be confronted by police cars blocking off the street.
It turned out that a demonstration was about to take place and I stayed to watch and found out what it was all about.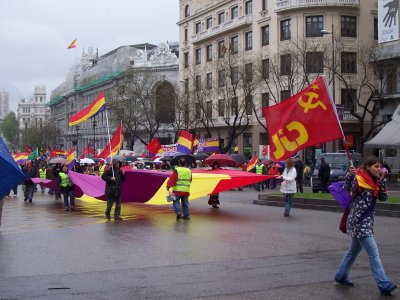 The flyer that one of the passing demonstratos gave to me explained the main reason for the march. The week before there had been attacks by a group of right-wing "terrorists" who had thrown bottles and stones, requiring at least one person to need medical treatment.
They claim that was not an isolated incident, and that these "terrorists" are part of the far-right, neo-nazi scene, who want other people to be afraid to go out on the streets.
For this reason they organised the demonstration as an act of public defiance, to show that the working people of Madrid will not tolerate such violence in their city.
I have a feeling that many of the people there came with groups that have other main causes – the large red, yellow and purple flag for example was being carried by a group who wanted to make Spain a republic and to do away with the monarchy.
What fascinated me most was how different it was compared to such an event in Germany. Here, many people would turn away – in Madrid many passers-by stopped to listen and even take photographs. There were even family members walking alongside the march and passing in drinks to the marchers.
I often wonder if we do enough in Germany to stand up for our rights. The Spanish, or at least the Madrileños are definitely more passionate about theirs!