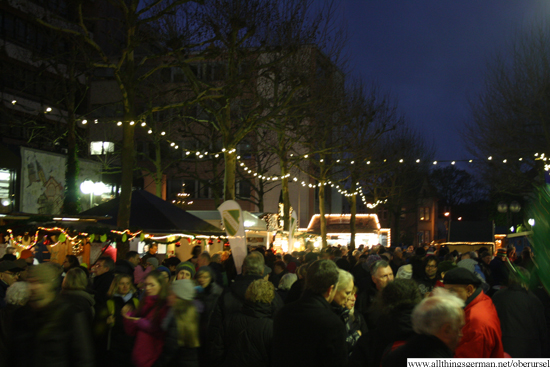 November 28, 2017 By Graham Tappenden 1 Comment
The 2017 Christmas Market (Weihnachtsmarkt) in Oberursel starts on Thursday, 30th November and continues until Sunday, 3rd December.
The market is open Thursday 4pm-9pm, Friday 2pm-10pm, Saturday 12pm-10pm and Sunday 12pm-9pm, and takes place in front of the town hall (Rathausplatz), along the "Vorstadt" and "Strackgasse", and on the market square ("Marktplatz") with over 100 stands in total. [Read More…]
October 8, 2017 By Graham Tappenden 1 Comment
It was three years ago, on 12th October, 2014, that the last train rolled over the tracks of the miniature railway belonging to the Dampfbahnclub Taunus in the Mainstraße.  After that day the tracks, buildings and other fixtures of the old layout were taken up and removed, work that took a whole year to complete.
After that workers from the local authority (Hochtaunuskreis) arrived and started the groundwork for the new railway.  They laid the foundations according to a plan that members of the club had designed.  In October 2015 the tunnel was installed and the club members moved the railway shed to its new location.
Come January 2016 the club was back on its own and started to build the new layout.  Not only did that have to do everything themselves, they had to make most of it as well as almost none of the elements from the old layout – including the tracks – could be re-used and had to be replaced. [Read More…]
Other News

Visitors from Oberursel's twin town, Rushmoor, in the the town hall during the Christmas Market: Carol Rust, Frank Rust, Bill Barron
Ute Simon, Angela Behrs and Mathilde Krücke in the Kenia Kinder Hilfe e.V. hut on the Rathausplatz on Thursday evening.  They were selling Glühwein, waffles, and tickets for the miniature steam railway.