March 31, 2019 By Graham Tappenden Leave a Comment
The new Fountain Queen was crowned in the Stadthalle in Oberursel on Saturday, 23rd March, 2019.
The evening started with a look back at the year 2009, in which Isabelle I. was the Fountain Queen, and together with her Brunnenmeister Uwe she talked about her experiences 10 year ago. [Read More…]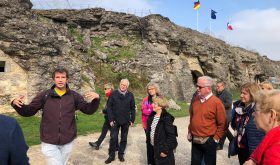 November 11, 2018 By Graham Tappenden Leave a Comment
To commemorate the 100th anniversary of the end of the First World War, representatives of the twin towns of Epinay-sur-Seine: Oberursel and South Tynside, recently visited the French town of Verdun together.  Among those from Oberursel taking part were Mayor Hans-Georg Brum and Council Chairman Gerd Krämer.
Verdun was selected for its particular place in Franco-German history.  In the First World War, the Battle of Verdun saw over 300,000 killed and around 400,000 wounded in one of the costly battles of the war on the western front.  [Read More…]
Other News

The Urselbach, between the Hohemarkstraße and the Kupferhammerweg.