April 10, 2021 By Graham Tappenden Leave a Comment
Anyone who is resident in Germany has the right to a free Corona Test each week. These tests are the instant sort of tests, that give you a result within 15 minutes. If this result is positive, a full test is usually offered.
Tests are available in Oberursel at the following locations: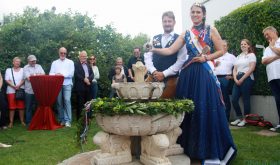 June 15, 2019 By Graham Tappenden Leave a Comment
The Akazienbrunnen – the fountain adopted by Pia I. to be her fountain – was officially inaugurated on Saturday, 15th June, 2019.
The fountain is located in a private garden in the Akazienstraße in Stierstadt, and is actually 25 years old. As a child Pia played in the garden around the fountain.
[Read More…]
Forthcoming events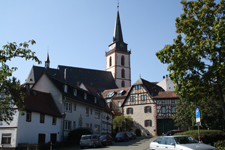 A tour of the old town (Altstadt) part of Oberursel is being offered on Saturday, 7th August, 2021, starting in front of the Vortaunusmuseum at the Marktplatz at 2pm.
Other News

The infection rates on Thursday, 29th July, 2021 are: Germany 16.0Hessen 18.7Hochtaunuskreis 14.4Oberursel 17.1 (New infections per 100.000 people in the past 7 days; Sources: RKI / HTK / self calculated)

The infection rates on Wednesday, 28th July, 2021 are: Germany 15.0Hessen 16.7Hochtaunuskreis 12.2Oberursel 17.1 (New infections per 100.000 people in the past 7 days; Sources: RKI / HTK / self calculated)

The infection rates on Tuesday, 27th July, 2021 are: Germany 14.5Hessen 17.0Hochtaunuskreis 12.2Oberursel 8.5 (New infections per 100.000 people in the past 7 days; Sources: RKI / HTK / self calculated)