After the initial shock of the referendum result, I have been following the developments in the UK closely.  But whilst I was keeping an eye on the leadership battles in both parties, the effects on the economy, and being shocked again at the choice of the new UK foreign minister, I had already taken a decision to get myself both a German driving license and a German ID card.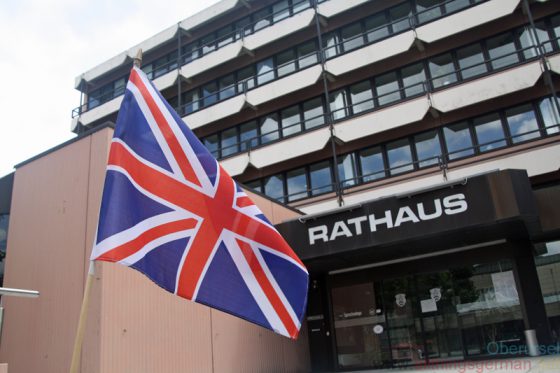 The Driving License
Getting the license is in fact incredibly easy, as long as the UK remains in the European Union.  You fill out a form, present your UK license, pay a fee and submit a current biometric photo, and three weeks later you can exchange your UK license for a German one.
That said, there are some limitations.  First, it helps if your UK license does not have any additional text on it.  Mine did, to say that category D1 (vehicles over 8 but not more than 16 seats in addition to the driver) was subject to minimum age requirements (ie. I was under 21 wenn I passed my test) and restriction one applied (ie. not for hire or reward).  Since D1 doesn't really exist in Germany because most small buses only have 9 seats including the driver they just took the category off and ignored it.
Category C1 needs to be renewed when you turn 50 and not 70 (vehicles over 3.5 tonnes but under 7.5 tonnes) so although it has been transferred, I will need to extend it earlier than I would have had to on my UK license.  Categories C1E and D1E (trailers) suffered the same fate as C1 and D1.
I almost lost BE (a car towing a trailer) as well, because my UK license did not call it that.  It was just called E (in connection with B).  But after explaining that at the license centre it got transferred.
I was able to keep category F (small agricultural tractors – category L in Germany) and P  (mopeds, now category AM).  The UK category L (now l, electric vehicles) is considered to be part of category AM in Germany and so doesn't appear separately on the license.  And I have lost categories K (mowing machines, pedestrian controlled vehicles) and N (restricted use vehicles) because they just don't exist in the German system.  So much for standard EU categories.
My provisional entitlement to drive a motorcycle (category A), a road-roller (category G) and tracked vehicles (category H) has also been removed.  Not that I have ever used them.
And at the end of the day it's not just a piece of paper.  It was my first full driving license and has been with me for 26 years, 22 of which I have had to carry it to produce on demand.  So in one way it was quite an emotional moment to surrender it to the German authorities.
But not only do I have my clear aim of having a full set of German documents, it also clears up a 21-year-old problem that I have had.  Had I lost my UK license at any time, the German authorities would not have been able to issue me with a replacement and DVLA would not issue me a new license on my German address.  And still I was able to drive legally on it in Germany for all that time.  So in a way it resolved a problem that I had often thought about, and makes it easier to replace or extend the license in the future.
German Citizenship
Obtaining German citizenship is not going to be so easy.  I made an appointment at the local town hall to have my paperwork looked and to find out what else they needed.  The requirement to live in Germany for 8 years before you apply is not a problem.  However I have to prove that I actually lived here during that time and was not just registered.  If you are employed somewhere, that's fairly easy.  Being self-employed means submitting copies of my tax returns in the past 8 years.  I also have to prove that I have sufficient income to support my family.  Again, if you are employed you can show your wage slip.  I will have to provide my company accounts.
Then there is a citizenship test which has 30 questions about German politics and culture and 3 from the local Bundesland on it.  I have already given it a try online and considering these are things I write about regularly and studied, I do not see it being a problem.  You only need to get 17 correct and I manage scores of over 30.
And then there is the language test.  Yes, it is not sufficient to have a degree in German (well it is, but it has to be from a German university), or to write regularly for a German newspaper.  The person behind the desk cannot just certify that you speak fluent German.  No, I have to go to a four-hour German language test to prove that I can B1 language proficiency in reading, writing, listening and oral skills!
Since some of the places that offer these tests are now closed for the school holidays, or only offering a limited service, the whole thing will have to wait a few weeks.  But with the UK Government saying that they will not activate Article 50 until at least the beginning of 2017, I should still be able to get everything submitted before the Brexit actually takes place.
Merken
Merken
Merken
Merken