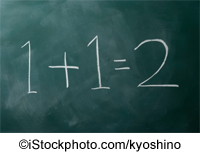 I suppose it was inevitable that once my daughter started school I would be comparing the school system in Germany with that in England – at least with the one I experienced at the end of the 1970s and throughout the 1980s.
But I wasn't quite prepared for the cultural shock that followed, and am still often left trying to work out whether it is a difference between the national systems that I am observing, or whether times have just simply moved on.
When I went to to primary school in England…
… the teacher wrote on the blackboard and we copied down the words, sentences, sum, etc. into our exercise books.
… we had text books that had exercises in, but these had to be copied into our exercise books before we did them
… handouts were something that you took home with you
… we learnt things like the times tables by heart, because we repeated them so much verbally in class, and the teacher would make sure that everyone had their turn
… we added and subtracted numbers by writing them above each other and drawing a line underneath
… standard stationary items like drawing paper were provided by the school
… we rarely had homework.  If we did, it was usually to learn something like the times tables, or spelling.
… school finished at 3.30pm
My experience so far of German primary school has been…
… that there is a blackboard in the classroom, but not much gets copied down from it other than the homework.  Any exercises to be done are either pre-printed on handouts or on pages of a pre-printed exercise book.  Even words that are to be learnt for a spelling test often come on a printed piece of paper.  On the other hand, if there is something parents need to know, such as when a test is going to be taking place, the pupils often have to write it down themselves in their homework books.
…  things are not learnt by heart, at least not in class time.  This appears to be something we are expected to do at home.  As for each child having a turn at answering a question in class, this concept seems to be foreign and it is not uncommon for parents to be told that their children do not put their hands up enough to offer an answer.
… there are different methods for adding and subtracting numbers, but definitely not by writing them in columns.  To calculate sums with numbers between 21 and 100 I have counted 7 different methods!  They have such names as the Autobahnmethod and the Verliebte Herzen. I might try and explain these another time.
… almost everything has to be purchased by the parents, like paper, pens, exercise books and drawing paper.  Of course, not just any type, there are often recommendations as to which brand to buy so that everyone has the same colours etc.
… there is typically homework in at least two subjects per day, which is sometimes of quite a plentiful quantity.  Of course, if the child has not understood the material during the class time, then the parents become surrogate teachers for the afternoon – which is ironic considering that homeschooling itself is not permitted.
… the school day finishes at lunchtime, sometimes even before noon.
So is this the modern way to teach primary school children, or is it just the way things are done in Germany?  I welcome your comments!
Whatever the answer, there is a market served by schools that offer a more rigid form of education.  The most well-known are the Montessori and Waldorf schools, the latter of which has a reputation for not using text books in class.  In fact, the reputation is not without basis, because the Waldorf method of teaching requires the teachers themselves to create the materials that they use, rather than simply following the steps through a book.
Of course, these alternatives are not without their cost, and from outside the system it is hard to understand why these alternatives need to exist at all.  But from the inside, I am beginning to understand the system more, and wondering why the state school do not apply more traditional methods.