Regular readers of this blog will know that I can highly critical of places that I go to eat, and McDonald's has featured a couple of times.
Today they feature again, this time for a couple of small and a not so small problem. Here's what happened:
Yesterday I took my daughter to McDonald's in Oberstedten for a treat. A few weeks ago she had received a sticker album with pictures of horses in it, and could get another set of stickers with her meal. At the entrance a poster showed the available sticker sets – we were in luck, or so I thought. Inside there were new toys with a sign saying "from 6th June". However at the till I was offered one, to which I replied that we were prefer a set of stickers for the album. "We don't have those any more" came the answer. "You do according to the poster in the window" was my reply. Oh yes, they did have some left. Which set would we like? Warum nicht gleich so?
The other small problem was the mayonnaise that I wanted with my meal – I had ordered a menu with something called Gitterkartoffeln – "that only comes with fries, you can have it as an [payable] extra if you like" the cashier told me. I asked if she was sure, then on other occasions it has been included, although I admit not always. She was sure. "It seems to depend on which day and at which till you are as to whether it's included" was my response.
I don't think she liked that much, and although I didn't really care about the 19 cent I find it annoying that such a simple thing is inconsistent depending just on who is serving you.
All this paled into insignificance compared to the next problem. There were no Gitterkartoffeln to give to me, so I was given a large plastic number to take with me, the Gitterkartoffeln would follow…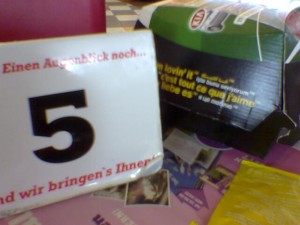 "Ein Augenblick noch… und wir bringen's Ihnen"
But they didn't follow. I watched other food being brought out but mine did not come. After waiting for 30 minutes (by which time we had either eaten everything else or it had got cold) I went to the supervisor at the cash desks and asked for my money back. At first she appeared to be a little unsure and asked how long I had been waiting for.
When I showed her my receipt, however, it was not a problem. She wanted to know who had served me and then she proceeded to give me a refund – in fact she would have refunded me the who meal but I played it fair and only wanted back the amount for food that I hadn't received which she duly gave me.
And then I noticed it: the other half of the plastic number "5" was not waiting for my Gitterkartoffeln at all – it was sitting on its own amongst all the other unused plastic numbers. I wonder how long it had been there?
One final thought: there used to be a rule in McDonald's in the UK that if you had to wait for longer than 20 minutes you were given a free apple pie. Perhaps McDonald's in Germany would like to consider introducing this…