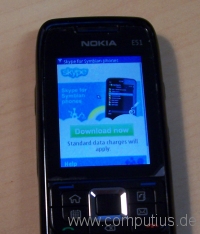 I would like to warn other business users with German Skype Numbers about the fate that awaits them.
I have (had) several Skype accounts for my business, managed through the Skype Manager. Some of these are old enough to have subscriptions, that include numbers without extra charge.
Last year at the end of March I was informed that one of my numbers would expire, even though it was not due for renewal. After a length discussion with a chat agent, I was told that my subscription (which was also not due for renewal) no longer included a free number and I would need to purchase the same number separately. I was given the option of porting the number to another provider, which I tried to do. However my provider was unable to take over the number, because although they submitted the documentation to do so, they told me that Skype did not respond to them and the number was not released. Chat agents were unable to help. Since this was a number that very few clients had, I decided to book a new number with a new provider and cancelled all subscriptions on that account entirely. Skype lost my business. I would have accepted a "from the next expiry date you will need to pay more for the number", but I do not accept Skype taking my money for a subscription and half way through changing the conditions and demanding more money for the same service.
Two weeks ago I had the unpleasant situation of problems with a different number. This time, one that I use for various projects. It was on some websites, it was printed on calling cards. I have had this number for 12 years!
On 5th January I received an e-mail to tell me that my annual subscription of a German Skype number would extend automatically on 4th February. The renewal would cost €26.35 and if I didn't want to continue I should cancel 3 days in advance.
Even though the account is on auto-renew via credit card, I checked on 3rd February to make sure that sufficient Skype Credit was on the account. The "next payment" showed on the account as €26.35.
On 4th February I received an e-mail saying that my subscription had been cancelled. One possible cause may be that "you cancelled it yourself". Shortly after I received another e-mail saying that I would have to re-activate the number of I wanted to keep it. The re-activation page now showed €40.70 as the annual price.
I spoke to a chat agent, who assured me that the number was still active and would expire on the 7th. I should change the payment method an wait for Skype to automatically re-activate the number. (It took almost an hour to work this out). This, I did.
After no re-activation occurred, I spoke to another chat agent on the 6th. They told me that everything was fine, but the automatic re-activation would not take place until the number really expired on the 7th. (This took another hour of chat time!)
On the 7th, my account now showed "Your number has expired", I resigned myself to paying more that went through the re-activation procedure, only to be told on the last screen "This offer is no longer available."
I now spoke to yet another chat agent, who looked into the problem, and after 30 minutes and discussions with a supervisor told me that as Skype no longer offers numbers in Germany, it is now no longer possible to re-activate them, despite everything you see in "My Account" or in the automated e-mails, and the numbers are discontinued once they come up for renewal.
I think this is disgraceful behaviour from Skype towards their loyal customers. If it is not possible to offer the service any longer then (1) they should tell you about this in advance, (2) not try and blame you for the problem "you may have cancelled it yourself", (3) change the automated e-mails so that you are not left trying things out that are never going work and (4) train their chat agents so that alarm bells ring if someone has a query about a German Skype number. It should not take 2½ hours of chat time, 3 chat agents and 1 supervisor to found out this very simple answer to the problem.
I spent that night changing details on websites (since Germany has a legal obligation to have a phone number on business websites), e-mail signatures, and several automated e-mails and associated social media accounts. I am praying that I did not use that number for two-factor authentication anywhere (although my projects notes do not seem to indicate this). I have to re-print calling cards and anyone who has received one of these cards, flyers, or e-mails over the past 12 years and now wishes to call me has the wrong number.
And all because Skype does not have the decency to tell they customers in advance, that they are discontinuing the German number. Instead, they lull you into a false sense of security by sending out an e-mail one month in advance confirming that the number will be renewed!
Obviously since they won't take my money, Skype have lost this business as well and I am reviewing all my other business use of Skype before anything else comes up for renewal.