If I have problems with the customer service of large corporations in Germany, or indeed in some other countries, then I often write about it.
Today, I am going to do something to redress the balance and write about an example of good customer service that I experienced recently – with Lufthansa.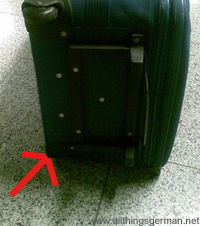 When we returned from our recent trip to Lanzarote, one of the wheels had broken off one of our suitcases by the time it came along the carousel in Frankfurt.
We duly headed to the damaged baggage desk in the basement of the airport and showed them the problem.  They gave us written confirmation of the damage without actually accepting liability, and told us to call a special telephone number once the suitcase was empty to arrange for it to be collected.
We followed the instructions on how to label the empty suitcase and called the number that we had been given.  On the other end of the phone was someone from DHL who arranged a day for them to come and collect the suitcase, and our normal DHL parcel courier turned up at his usual time on the appointed day to do so.
Only three days later we received a phone call from Lufthansa to say that the suitcase could not be repaired, so instead it would be replaced and we could choose the colour of the new one.
That was Friday, and on Monday morning the new suitcase arrived in a large cardboard box.  Not only had they replaced the suitcase at no charge to us, but they had even given us one in the same size from a well-known high-quality brand.
So thank you Lufthansa for proving that there are multi-national companies out there prepared to do everything to make their customers happy.
I am obviously not alone in my opinion of their after-flight service.  You may also like to read "Compliments and complaints with Lufthansa" on Maria Shipley's travel blog.