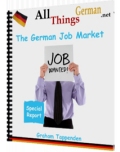 The annual computer show in Hannover, CeBIT, usually brings calls of "Fachkräftemangel" in the German news.  In fact, it has been that way for at least the past nine years – or so it seems.
"Fachkräftemangel" means a lack of qualified, trained – or what ever you want to call them – specialists.
And as in previous years, a whole debate starts up about taking on foreign workers to fill the jobs, that this apparently leaves unfilled.
Now, it is not as if I am against people from other countries working in Germany (which would make me rather hypocritical if I was), but I do question the reasoning behind it, both from a business and a social point of view.
According to Wikipedia there are almost 3 million people in Germany out of work, and I wonder how many of those would be only too happy to re-train to be get one of those unfilled vacancies.
The problem is that the companies do not want to have to re-train them.  They want people who can do the job straight away.  Either they do not want the  burden of training someone, or they are afraid that they will not stay with the company long enough to justify the cost.
To me, a simple solution would be to offer someone a job at a lower – but still reasonable – pay rate whilst they are in the training phase, and then give them a pay rise once they start working full time in the actual job.
But rather than that companies, in the IT industry at least, look for people will very specific skills and a certain amount of experience.
They do not want a simple C++ programmer, who might have to expand their scope of knowledge to a different compiler.
They want a C++ programmer who has 5 years experience with a certain compiler, good English skills, and probably experience in the client's industry as well for a pittance of a wage.  Not finding anyone for the job is then an excuse to either outsource the job to a cheaper labour market or to claim that there is a Fachkräftemangel.
I have even seen jobs advertised requiring more experience in a particular system than was physically possible, since it had not been on the market that number of years.  I think a creative personnel department might have been behind that one!
But before everyone starts work on their German CVs, a word of warning.  I was at CeBIT several years ago when Chancellor Gerhard Schröder talked about Fachkräftemangel in the IT industry and how foreigners would have be brought in to fill all the vacancies.
A week later I went to the job centre and introduced myself as a foreigner, who would like information on the IT vacancies the Chancellor had been talking about.  The lady behind her desk just laughed.  "We don't have any here" was her reply.