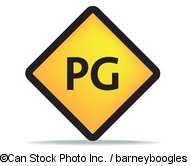 It's quite amazing now to think that this post almost didn't get written, and it's all down to something called the Jugendmedienschutz-Staatsvertrag, or "JMStV" for short.  Another crazy piece of German legislation that, thankfully, didn't quite make it into law.  Well, not yet at least.
Had it done so, you might well have seen a blank page here by now.  Indeed, it might have meant the end of most blogs in Germany.
But how can a law be that powerful, without banning blogs completely?
It's all down to what the law wanted bloggers – and many website owners in general – to do.
I'm sure many of you are familiar with the way films are classified, such as "U" and "PG" in the UK.  Germany uses a simple age system called FSK, so something might be 0, 6, 12, 16 or 18 – ie. that is the minimum age for which the film is suitable.
The same type of classification is also applied to computer games.
But then someone in the German Government thought it would be a good idea to apply it to websites as well.
Now, while that may not seem so far-fetched in some cases, it does pose a serious problem for sites with journalistic content.
If I own a website that is selling alcohol, then it's a pretty simple case.  I can put a warning on the first page of the site that people see, and send the goods by a parcel service with instructions on the minimum age of the recepient.
But how do I classify a blog about life in Germany?  The solution that was discussed a lot at the end of last year was to put a symbol on each blog post showing what age it is suitable for, and possibly even make people register to keep people who are too young out.
Imagine having to go back through everything you have written and decide which age it is suitable for.  Imagine getting it wrong – or at least, someone claiming you got it wrong – and being fined for it.  Imagine what a reader might say, who has to register with the site to read an entry about a trip to Frankfurt, just because I write about travelling on the Ebbelwoi-Expess (where a type of cider is served).
The risks would be high and the income probably lower despite the increased workload.  Many bloggers – myself included – were unsure how to deal with the situation and contemplated taking their blogs offline.  Thankfully, one of the regional governments refused to approve the law and it didn't get passed.
But as if to show just how little the German Government understands about the internet they suggested that to avoid classification problems, bloggers made the relevant posts only available after a certain time of the day, a bit like a television watershed.
Quite apart from the technical nightmare of setting something like that up, it would be irrelevant to anyone living in a different time zone, who would be able to read the posts during their daytime.  And indeed, the law would only apply to German bloggers.  Or did they really think the rest of the World would classify their blog posts as well?