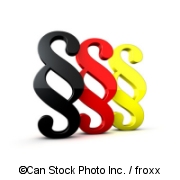 There are many blogs on the internet where the blogger prefers to remain anonymous, at the very least he or she prefers not to tell the World exactly where they live.
For what ever reason that may be, they use an anonymizer service to register their domain, or rent themselves a post office box and use that for anything where they have to give a real address.
Considering Germany's attitude to privacy and especially to services like Street View, you would think that it would be possible here as well, wouldn't you?
Of course not.
Germany has a law that says that anyone who has a webpage with content other than for 100% private consumption (ie. just for friends and family) must have a page called "Impressum".  The trouble is, the moment you put a banner on your homepage, you make money and are no longer considered "private".
The Impressum, roughly but not necessary correctly translated into English as "Imprint", must be linked to from all pages on the site.
It must contain the name of the website owner with at least one Christian name and the complete postal address.
If you are a business and have a European Tax number (called the USt-ID-Nr. in Germany), then it must be displayed as well.
Then, depending on who you ask, you should also display your telephone number and/or e-mail address – just in case someone wants to get in touch quickly with you about your website.
And don't you even think of protecting the e-mail address to stop spammers from harvesting it!  An e-mail address that is not shown as plain text might not show up on someone else's screen, and cause you a lot of trouble.
On the one hand, it makes everyone in the country equal.  We all have to do it, so everyone knows everyone else's addresses.  Even if someone does forget to use an Impressum you can always find out who owns the site by going to the national domain registry, called DeNIC, because to own a .de Domain you have to provide a German postal address – at least for the administrator.  There's no escape…
… which maybe isn't a bad thing.  Except that there are lawyers – even whole organisations – out there, who are just waiting to find a homepage that either doesn't have an Impressum or forgets to link to it from one of the sub-pages.  But don't worry, they'll soon let you know, and send you an invoice for their fee at the same time!