This is a guest post by Mary Conlon-Förster, President of the British Club of the Taunus e.V.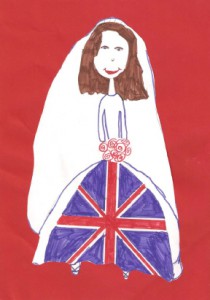 Preparations for the British Club of the Taunus' celebration of the marriage between HRH Prince William and Miss Catherine Middleton started in January this year. As the Charles and Diana party had been so successful in 1981, it was decided to again hold the BCT celebrations in the home of one of our long-standing members. It did not take long for such a member to offer her home to us for this illustrious occasion and soon plans were being made for erecting pavilions in the garden and televisions and beamers in the living room. Getting 40 chairs together was quite a feat, but not as difficult as telling the ladies that although hats would be most appropriate, stiletto shoes would not go well with the parquet flooring!
Red, white and blue would be our colours for the day, but we also wanted all our non-British members to be represented so preparations went underway to gather the individual flags of all our members to be displayed with the Union Jacks. A decision was made to break with the traditional British wedding breakfast and ask our members to bring individual dishes for a wedding lunch, for example coronation chicken, a dish created for the coronation of Elizabeth II in 1953; Eton's mess, a dessert of ice-cream, meringue, strawberries and cream named afer Will's school; cucumber and salmon sandwiches (named after John Montague, 4th Earl of Sandwich) and, of course, Earl Grey tea, believe it or not named after Earl Grey!!! The Wedding Cake, I'm afraid, is still a well-kept secret until the 29th!
The British Club of the Taunus is celebrating the marriage between Kate and William without pomp and ceremony, but with dignity and joy. We join the Royal family in wishing William every happiness with his chosen bride and just as all parents would do, hope that this will be a marriage made to last. No doubt there are many critics who only see Disneyworld castles and extravagant princes and princesses, but for some people the union represents the possibility of a new, modern Royalty that will continue to provide continuity in a world that is ever changing. Politicians come and go. The monarchy is here to stay. At least in Great Britain. Kate and William have requested that in lieu of presents, donations be made to charities, a decision welcomed by the citizens of Great Britain and wholeheartedly supported by the British Club of the Taunus e.V.
You can find out more about the British Club of the Taunus e.V. by visiting www.british-club.de.  The drawing is the winning entry for the BCT Royal Wedding Children's Design-a-Card Competition by Chloe Sprokel, age 6.