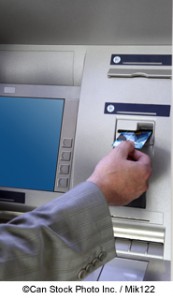 I've talked before about the different payment methods available in Germany, although the acceptance of credit cards is slowly growing – even our local supermarket now accepts them.
But for many smaller shops in town centres, cash remains the method of choice which means that at some point visitors and ex-pats alike will need to visit a cashpoint.
Cashpoints are located in the branches of most banks and often at petrol stations, but the charge for using them varies depending on where your bank account is.
When I first moved to Germany I had to pay a small fee even if I used the cashpoint at my own branch (and still do on my business account!), but most German banks these days charge a higher monthly fee for the account and no longer charge for each withdrawal.
Then there are arrangements between the banks to allow you to withdraw cash elsewhere, as many smaller towns only have one or two branches and so not every bank has a branch in every town.
Generally speaking, if you have an account with a Sparkasse, then you can withdraw cash at a different Sparkassen without paying a fee.  Similar arrangements are in place between some Volksbanken, and in some places the two systems compliment each other.  For example, the Taunus Sparkasse has an arrangement with the Frankfurter Volksbank.
Another collection of banks have formed the "Cash Group" and allow each other's customers to withdraw at their cash machines free of charge.  These include Deutsche Bank, Commerzbank and Postbank.  They even have arrangements with foreign banks such as Barclays in the UK, the Bank of America, and Westpac in Australia – so visitors from those countries who have their accounts with those banks should ideally use a Cash Group machine when visiting Germany.
However even within these groups of banks there are some exceptions.  For example, some banks issue two types of cards.  A Kundenkarte (the name varies) which can only be used at their own branches, and an ec-Karte which can be used at any cashpoint and even as a debit card to pay for things in shops.
Then there are some Postbank branches located in shops that do not accept the cards from other Cash Group banks.
But where the system really gets complicated is when you try to withdraw money from a bank that does not have an arrangement with your own one and the equivalent of the clearing process kicks in.
To handle this, banks used to display a list of charges next to their cash machines.  They showed what they would be charging, but included a disclaimer that they could not say for sure what the "home" bank would eventually pass on in charges to their customers.
This changed recently, when new rules were introduced that mean that the banks must show you how much you will be charged on the cashpoint screen.  Charges can still be as high as €7.50 per transaction, but at least you know and I suppose you can theoretically then stop the withdrawal and go somewhere else.
I do not know whether this also applies to foreign bank cards, although I suspect in such cases only the local charges can be calculated, and not the amount that an overseas bank is going to add or which exchange rate will be applied.
Also, using a credit card to withdraw cash will almost always incur a higher charge – regardless of which bank the card was issued by.  (As an example, my bank charges me a minimum of €7.50 if you use a credit card to withdraw cash in the branch it was issued in!)
Please note that these details are correct at the time of writing.  We accept no liability for any charges that our readers may occur.  Please check with your bank before withdrawing cash for details of current charges.