"Spätzle" is a typical dish from southern Germany. They can be eaten to accompany a main course of meat or can themselves be a main course when combined with other ingredients.
Basic recipe
You will need (for 6-8 portions):
| | |
| --- | --- |
| 8 | eggs |
| 520g | plain flour |
| 1/2 tsp | salt |
In addition you will need some seasoning such as ground pepper or sweet red pepper powder.
We use a very fine type of flour called "Spätzle-Mehl".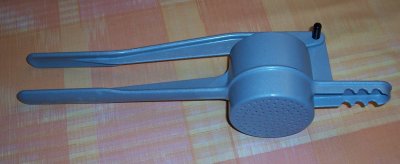 You will also need the tool to make the Spätzle – this is called a "Spätzlepresse" and is similar to a potato masher, so you could try using one of those. You will probably be able to find the original article on ebay.de or
cookplanet.com.
First steps
Break the eggs into a large bowl. Add the salt. Now slowly add the flour and seasoning and stir with a spoon until the mixture is firm with small bubbles.
Now prepare a large saucepan of bowling water.
Through the press
Load the spätzlepresse with the mixture and hold it over the saucepan. Now press the mixture through the press so that the spätzle land in the water. Cut off with a knife if necessary.
The spätzle will sink and then rise. Once risen, leave for 2 minutes and then remove from the water with a sieve. Place them in a covered bowl.
They can now be served in this form as a side dish.
[audio:http://www.allthingsgerman.net/podcast/mp3/2006-11-26_spaetzle_basic.mp3]
Listen to the recipe as a podcast
Variations
Baked spätzle with chives, sour cream and bacon
Questions or suggestions? Put them in the Forum!