Treisberg ist a small part of the town of Schmitten and is located in the Taunus area to the north of the Feldberg. With less than 200 inhabitants at the time of writing, it is very much off the beaten track and only consists of a few roads.
However the area is a popular destination of walking and that may have something to do with what is just outside the centre of the village. On a hill known as the "Pferdskopf" or horse's head, there is a viewing tower that is open to the public.
The track leading up to the tower
Originally erected in 1895, this was a made of steel and towered 18m above the summit. It was replaced in 1987 with the current tower which is made out of wood, but is 34m tall.
The destination is so popular, that there is even a free car park in the aptly named street "Am Pferdskopf". From there the walk up the hill is about 1km in length but climbs – depending on where you parked – anything up to 200m, with the summit at 663m above sea level.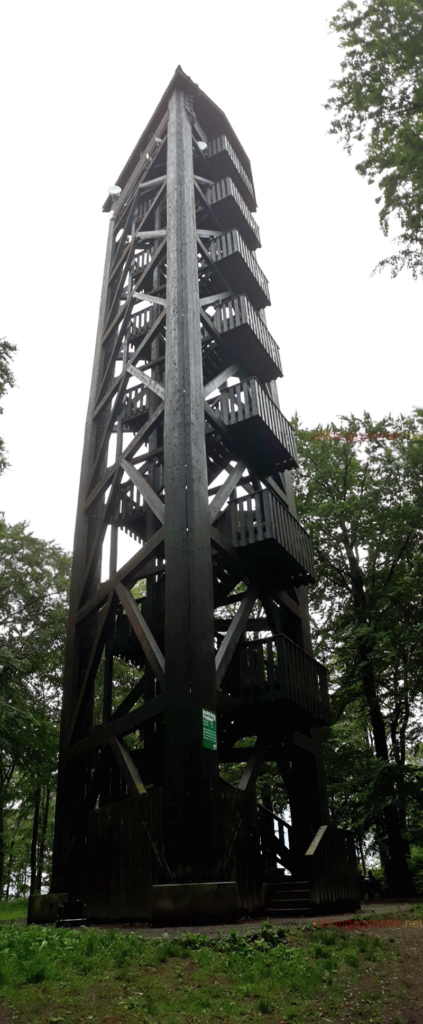 The tower or "Aussichtsturm" on the Pferdskopf
The trees are about half the height of the tower, so there is a very good view from the top in most directions. Of course, since the Feldberg is slightly higher, this does block the view back towards Oberursel.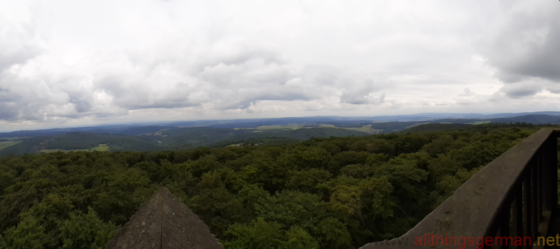 The view from the top of the tower (Photo: S.Tappenden)
It should also be noted that the tower houses mobile phone transmitters, so there is a particularly good 4G reception there.
Getting there
Treisberg is at the end of the K742 road. One way to get there by car is to cross the Saalburg on the B456 and then head towards the Hessenpark on the L3041. At the end of that road join the L3025 and follow the signs.