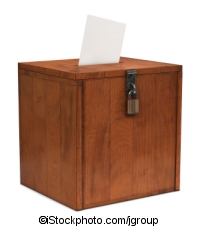 Today I went to vote in the Oberursel Ausländerbeiratswahl.  Not an easy feat considering that the polling station was in the town hall, with a trade fair going on next door and as a result the (chargeable) car park being nearly full up.
So what's the Ausländerbeirat you might be asking?
The state of Hessen (Hesse) stipulates that any town with more than 1000 foreigners living in it must have one.  Once in office, the town has to inform them about any decisions that will affect foreigners.  They are also allowed to sit in on various committees.
The last time I heard anything from them was 5 years ago – at the last election.
Although you don't really "hear" from them, other than the polling card arriving.  I don't believe I've ever met a member of the Beirat.  They've certainly never come canvassing my vote at any time that I am aware of.  And since there is only a list of names on the ballot sheet and no political parties, deciding who to vote for is not an easy task.
Admittedly there was a presentation-type evening in the town hall a few weeks ago, where you could meet the candidates.  Apparently.  I read about it far too late on the town website to be able to go, and there was no mention of it on the polling card.
So I suspect that many people treat it a bit like the Eurovision Song Contest and vote for nationalities that they are sympathetic to.  Or at least names that sound like those nationalities.
Which makes me wonder if we really need this Beirat.  Are we foreigners in the town so special, that our voices need to be heard more than any other social group at town meetings?
On the other hand, do we really care?  Considering that the turnout was just over 3%, I don't think many people here do.