They call it the "Wahrzeichen der Stadt" – the town's landmark, and photos of it can usually be found on many of the postcards from Bergen auf Rügen.  And yet, the Ernst-Moritz-Arndt Tower is not really near to the centre of the town and, in tower terms, is not really that tall.  So what is all the fuss about?
To understand the tower, it is an advantage to know who exactly Ernst Moritz Arndt was and why it was built in the first place.
He was a poet and a thinker, born in 1769 on Rügen at a time when the island belonged to Sweden.  His works reflect the beauty that he saw in the island, but he known in particular for criticising Napoleon's occupation of Germany and fleeing into exile as a result.  In 1848 he elected to sit in so-called Frankfurt Assembly (Frankfurter Nationalversammlung), which drew up a constitution for what was then the German confederation.  Parts of that constitution live on today in the German "Grundgesetz".
He died in 1860 in Bonn and when the 100th anniversary of his birth arrived a committee was formed on Rügen to organise a monument in his honour.  That monument is the tower that can be seen today, albeit with a different dome on the roof which is also slightly higher.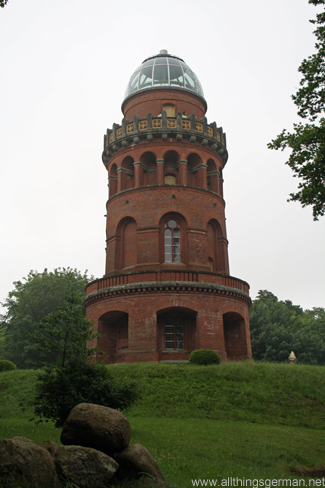 Located on a piece of land called the "Rugard", it is within walking distance of the car park at the summer toboggan run in the Rugardstraße.
There are 99 steps in total, with viewing platforms on three levels in addition to the dome itself.  It is open daily from May to October between 10am and 6pm, and entry costs €1.50 for adults and €1.00 for children at the time of writing.  For the opening times in winter call 03838 20190.
When you reach the top and stand inside the glass dome, you have a fantastic view across the entire island in all directions.  At least you do on a clear day.  Around the inside of the dome there are maps of the island showing the direction that you are looking in and which part of the island you are therefore looking at.
The day that I visited, it was overcast and started raining, so this was the view that I had: