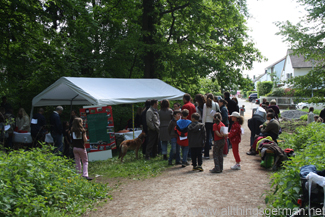 Last Sunday saw a flurry of activity in the woods between the northern end of Oberursel and nearby Oberstedten.  Several hundred children and parents from the local Waldorf school were holding a sponsored walk to raise money for a school  in South Africa.
Although the school itself borders on the area, the start was actually located some distance away in the woods itself – signs led those like myself who had gone to the school instead from the gates along a trail to get there.
Once at the check-in point, the walk itself took a circuit that was about 1 km long, with the walkers being sponsored on a per-lap basis.  Over 300 people were expected to take part.
The sponsorship money raised will be put to use in a project at the Dassenberg Waldorf School in South Africa who have had a partnership with the school in Oberursel for the past 15 years.  Previous projects have included equipment providing equipment for the playground, laying grass for a sports field, and even putting up buildings for specific subjects like woodwork.  Photos of these projects were on display, so there was plenty of incentive to complete as many laps as possible.
However after the walk it is not a simple case of raising the money here and sending it to South Africa.  The sponsored walk was organised by year 12 pupils who will fly to Dassenberg at half term in the autumn to carry out the project themselves – with each pupil responsible for funding the cost of their own flight.
And the fund raising for the project itself does not end when the last walker returns home.  Donations to the project can be made at any time by using the following bank details:
Schulverein FWS Vordertaunus e.V.
Kontonummer: 16 349 102
BLZ: 430 609 67 (GLS Gemeinschaftsbank e.G.)
Kennwort: "Afrika"