Next year Oberursel will play host to the Hessentag – an annual event that takes place in a different town each year in the state of Hesse(n).
I won't comment on the politics of the Hessentag at this stage, or what this will mean for residents and business owners next summer.  However, the first "side-effect" has already taken place.  It was called the "Landeskindertrachtentreffen".
Roughly translated that means the "state childrens' traditional dress festival".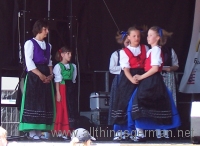 Now, Oberursel may be well known for several things such as its fountains and cider, but I've never really known it to have a traditional way to dress.  That's the sort of thing that's usually left to areas like Bavaria.
And yet they still hosted the childrens' festival this year.  Why?  Because as far as I am informed, the town hosting the Hessentag must host the childrens' festival the previous year.  So Oberursel did not have much choice.  If you want the Hessentag to come to your town, you have to accept the Landeskindertrachtentreffen as well.
That's pretty much the way I experienced people talking about it beforehand – like a "duty" that had to be performed.  After all, how many children in Oberursel have "traditional costumes" to wear?
Well, on the day there were a number of appropriately dressed groups in the town, although I was not aware of any from Oberursel.  They came from different parts of the state, and I suspect they do the same thing each year at the chosen location.
In fact, the whole Trachtentreffen was rather low key in my opinion.  On the other hand, in the roads leading off from the square where it was held there were plenty of things for children to do.  They could learn to juggle, walk on stilts, or just play and have fun with the games and activities that had been laid on.
The weather was good as well, so in the end of was a pleasant day out, despite the tongue-twister name!