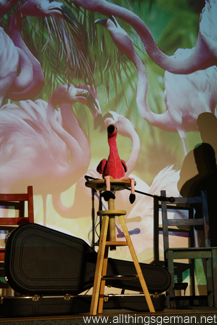 "Toll im Quadrat" – roughly translated it can mean either "great in a square" or "great squared" – was a show at the Klinik Hohe Mark in Oberursel last Friday.
Advertised as being "not just a Flamenco Revue", it was a mixture of dance, songs and one might even say sketches performed by local graphic designer and dancer Nathalie Karg with John "Lobito" Opheim on the guitar and singer and percussionist Manuel Lojo "Ardillita" in front of an audience of 140 people.
Much of the music had a Spanish feel to it, even to the extent of "My Way" sung in Spanish, with more serious tones such as the homage to Salvador Dalí but mixed with light-hearted elements and in some cases performed against daring backdrops, such as a large photo of a cucumber.
After the interval, [Read more…]