June sees the start of a new cycle of the Störtebeker Festspiele auf Rügen, with two new actors in the lead roles.  During the winter months, both Klaus Störtebeker and Goedeke Michels were re-cast, to the surprise of many fans.
Alexander Koll from Eschweiler near Aachen and Alexander Hanfland from Cologne have joined the cast in Ralswiek and will be giving their first performances in their new roles on Saturday evening at the premiere.
The story returns to the beginning with Klaus, not yet a pirate, being simply "Klaus von Alkun".  But the play is not just a repeat of the one five years ago, for a start it takes place four years later in 1395.  There are some similarities, such as Klaus' father (Norbert Braun) being in debt and losing his land to a unscrupulous family, but other elements are new.
Alexander Koll as Klaus Störtebeker

Klaus returns from what is described as an educational trip – he went out to see the World and gain new experiences – but there are some subtle hints that he has been taking part in the Crusades.  One being his new friend, Aydan (Frank Richartz), who accompanies him home from the East, and the fact that Klaus tells his father that he was in Jerusalem and has seen enough blood shed to last him for a long time.
Whilst one side of the stage is used to portray the Arkun lands, the other side represents Stralsund – a town in the Hanseatic League.  Here, Dietmar Lahaine portrays the corrupt Mayor, and Karin Hartmann reprises her role as the Innkeeper, although now under the name of "Frida".
Also in Stralsund are the Siblings Rüdiger (Mike Herrmann Rader) and Dorothea (Nicola Ruf) von Achenbach, who have their sights set on the Alkun land, and several of those living on it.  They will stop at nothing – even murder – to get what they want.
Klaus travels to Stralsund to settle his father's debts, where he runs into Goedeke, who is not too happy at him having a place at Frida's table, leading Klaus to ask if the hospitality in his country has changed so much while he has been away!  Goedeke challenges him and they arm-wrestle.  Having lost this, Goedeke challenges him to a round of "Tonnen klatschen" where one sits on a barrel and the other tries to knock them off with a plank.  Again, Goedeke loses and they drink together.  Here, Klaus is faster at downing the jug of ale, hence once again Klaus von Alkun becomes Klaus Störtebeker (from "Sturz den Becher").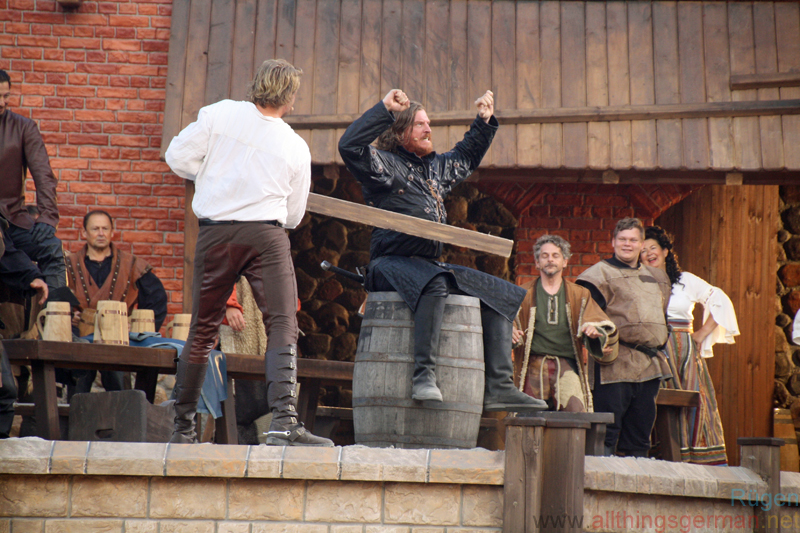 Tonnen klatschen – Klaus Störtebeker (Alexander Koll) attempts to knock Goedeke Michels (Alexander Hanfland) off the barrel
His love interest, Selma, is played by Sina-Valeska Jung, who originally comes from the Wetterau area near Frankfurt am Main, where she studied law before taking up the chance to go into acting.  Before her audition, she had never been to Rügen before and so far has not had time to see much of it.  Similarly, Alexander Koll is only now starting to discover the island, even though he had been to it before.  But although the island was not new to him, the riding was.  Störtebeker is unthinkable without this horse Vulkano, and so having landed the role he started taking riding lessons four times a week near his home, later progressing to lessons at the stables in Ralswiek.  After the preview performance this week, he commented that after being frustrated at times at the beginning, has now has fun being able to ride and can concentrate on the acting.
Many of the elements of the usual Störtebeker stories have been omitted, such as people falling off ladders or burning stuntment running across the stage, but these have been replaced with other stunts and a good number of canon balls being fired.  One stunt that is very much worth a mention – without giving too much away – and sees Norbert Braun as Armin von Alkun tied to the water wheel and sent round it several times, in order to force one of the other characters out of hiding.  Apparently he performed the same stunt many years ago when he, himself, was playing the lead role.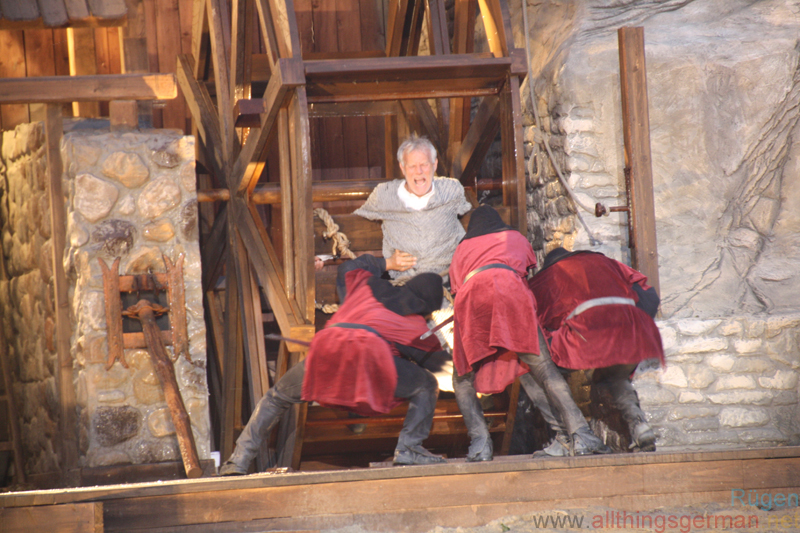 Armin von Alkun (Norbert Braun) being tied to the Water Wheel
Regulars Charles Lemming and Thomas Linke are also part of the cast, although in a number of new smaller roles.  And talking of small roles, there is a new comedian on board in the shape of Volker Zack, who plays "Der Kleene" (literally the "small one" in Berlin dialect).
But with all the changes going on, fans need not worry that some other elements might be missing.  Laran, Störtebeker's eagle, makes his traditional appearance to fly low over the heads of the audience, and ballad singer Wolfgang Lippert performs three songs, including one of the audience favourites: "Albatross", although this year there is also poetry to be heard between the scenes, provided by Thomas Ziesch.
Wolfgang Lippert singing "Albatross"
Now all that remains is to see how the two Alexanders are accepted by the loyal Störtebeker fans, who over the years have often decided which Störtebeker and which Goedeke they like best in the role, and often it is the set of actors that they saw first.
On Saturday evening, the new Klaus Störteber will ride out of the mist onto the open-air stage for the first time – and even here there has been a small change to the traditional opening scene.  But saying more than that really would give too much away.
The Störtebeker Festspiele run until 8th September, 2018, with performances every night except on Sundays.  Tickets can be booked in advanced on www.stoertebeker.de.
My thanks go to the Störtebeker Festspiele GmbH & Co. KG for inviting me to the press preview performance and allowing me to publish photos of the performance on this site.