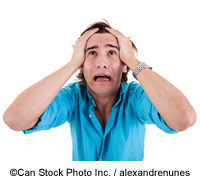 Bloggers in Germany have only just recovered from not having to classify all of their posts.  Yet other Government officials are still finding ways to make our life difficult.
Last week, data protection officials in one part of Germany decided that using 3rd party advertising on a website constituted an unauthorised passing on of personal data, ie. the IP address.
In a similar issue to the use of Google Analytics, this would mean that unless you host all of your banner adverts on your own server or webspace, you would need permission to show them from your visitors.
Can you imagine visiting a site and being asked if you would like to see it with or without banner advertising?  What would you click on?At this point you may be asking yourself what sort of advertising that would affect.
Let's start with the obvious: Google AdSense.  The little advertisements that you see on this and many other sites are delivered by Google and are intended to be related to the content of the site.  These advertisements are one of my sources of income, as I receive a few cents when someone clicks on them.  I am not about to say how much that is each month, but at present the German tax office has no problem taxing it.
Similarly any books or other products that I recommend on Amazon usually use a banner that Amazon themselves host.
And a lot of the advertisements that I use have one part – usually the image – stored on the advertiser's server.  How else would they know how often it has been displayed?
So what does this mean for bloggers?  Well, if you remove pay-per-click adverts and affiliate programmes, then all you are left with is to sell your own products.  That's been a pain for years, due to the complicated consumer and competition laws that govern money-back guarantees and digital media, and I won't even go into what it means to sell something that actually needs to be packaged and sent through the post.
How is a blogger meant to earn a living in this country?
Well there are ways, but as you might expect they are typically very bureaucratic and not well known.  This is partly due to Germany taking a completely different stance to other countries on such issues, but probably also due to the fact that most courses teaching people how to make a living from their blogs are not even based in Europe.
Thankfully this is about to change.  If you would like to take your European blog to the next level and make a living from it, then join me from today over  at the Beyond Blogging Project, where fellow blogger Mike Cliffe-Jones offers you valuable lessons on how to turn your blog into a full-time business.  You'll find me in the forum, offering my advice on all sorts of issues facing bloggers in Europe.  Together, we should be able to find solutions that even bloggers in Germany can use!