This week an entire collection of bouncy castles are visiting Bad Homburg, and on Saturday we decided to take a look for ourselves.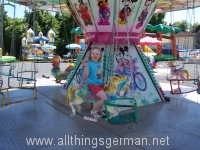 But what's so special about a bouncy castle?  Well, firstly this is not just one bouncy castle – but a whole group of them in different shapes and sizes.  Whilst are the more traditional type seen at fun fairs, others are to climb up using ropes or even with holds similar to those on climbing walls.  One even incorporates a water slide.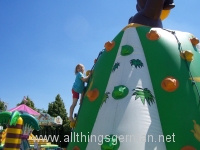 There are also two trampolines, a merry-go-round and a stand serving food and drink at reasonable prices.  There is also a special area set aside for children under 6.
And access to all of this only costs a single entry fee.  Since most of the local festivals usually have rides where you pay per go, this does make it rather special – they even advertise with the slogan "let you child ride on the merry-go-round as often as they want to".
We spent a pleasant day there and stayed for over 4 hours!
The Hüpfburgenstadt – literally the "bouncy castle town" – is in Bad Homburg until the coming Sunday (13th June).  Details of other locations can be found on www.huepfstadt.de.