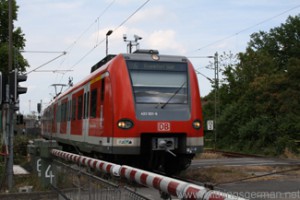 Whilst the train may offer one of the most convenient ways to get to the Hessentag in Oberursel, the question a lot of visitors will be asking is when the last train leaves so that they can get home again.
This is going to be especially relevant to those visiting events such as the "Just White" concert and the YOU FM Clubnight which finish at 2am and 5am respectively, as both the U-Bahn and S-Bahn do not normally run through the night.
According to the RMV the last U-Bahns for Frankfurt leave Oberursel station at 0.58am for Frankfurt-Südbahnhof and 1.28am for Frankfurt-Heddernheim and do not start again until around 4am (the exact time depends on the day of the week).   The last U-Bahn to Hohemark leaves Oberursel station at 1.02am.
The S-Bahn does not do much better, with the last train to Frankfurt at 1.48am and to Friedrichsdorf at 1.42am, before stopping until around 5am, however all of this information is still subject to change.
To get back to Grävenwiesbach or Brandoberndorf you even need to be on the last Taunusbahn at 0.49 in Bad Homburg.
Luckily, a lot of the buses will be running through the night, at least once an hour, although obviously you should check this carefully in advance.
Line 261, for example, takes visitors back to Kronberg and Königstein and leaves Oberursel station at 1.54am, 2.54am, 3.54am, and line n3 will be of particular interest to those returning to Frankfurt, as it leaves the Lahnstraße at 1.54am, 2.54am and 3.54am before going to the Konstablerwache, but only on Friday and Saturday night (ie. Saturday and Sunday morning), and the night leading into Whit Monday.
I do wonder why there are events going on into the early hours, with the roads still closed to residents at those times, and yet the trains stop running.
There is, however, some hope for visitors to "Just White" and the other events in the Hessentagsarena.   There will be extra U-Bahn and S-Bahn trains to get the "Just White" visitors home, and additional trains have been promised after other events in the Hessentagsarena that leave Bommersheim at 1.29am and around 2am – at least travelling to Frankfurt.  Some S-Bahn trains are planned on other nights, but the exact times have not been announced yet.
By the time the YOU FM Clubnight finishes, the normal timetable will have resumed anyway…