This is the final part of the series about my weekend walking between Rüdesheim and Oberwesel. Part five can be found here.
The final part of our journey was to take place on the aptly named boat "Jeverland", run by the Köln-Düsseldorfer line. We boarded in Oberwesel and sat back to enjoy the journey to Rüdesheim.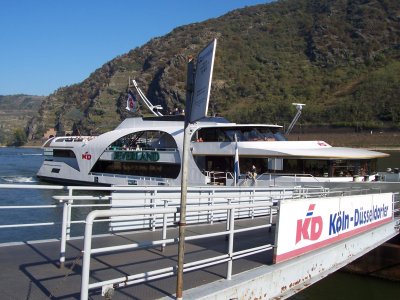 The "Jeverland" at the berth in Oberwesel
The slow pace allowed us to look at the paths and places that we had been to the previous day, as well as seeing part of the Rhine that we had missed by sitting in the train.  One example of this was Burg Pfalzgrafenstein. Built in the first half of the 14th Century and positioned in the middle of the river, this was once a customs house and has the unique form of a ship.

Burg Pfalzgrafenstein, standing in the middle of the Rhine
Next we came to Lorch, where we had stopped to eat the day before.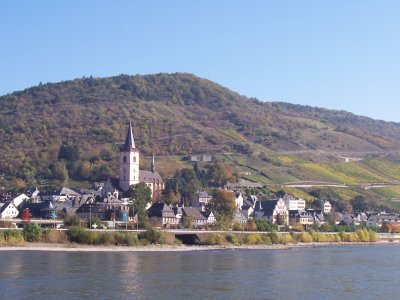 Lorch, seen from the river
After Lorch came the vineyards – here we could see the route that we had taken.

The vineyards on the slopes south of Lorch
After that – the part of the path that went through the woods. In the photo you can see how the vineyards suddenly stop and the slopes are covered with trees.

The woods and vineyards between Assmannshausen and Lorch
After the next vineyards we passed Assmannshausen. In the background are the school that we walked by, the start of the steps that we used to go down to the town and the chair lift.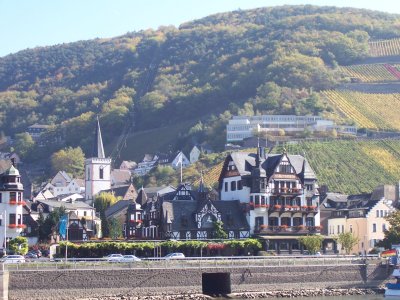 Assmannshausen, seen from the river
Once again we passed the Mäuseturm, standing in the middle of the river.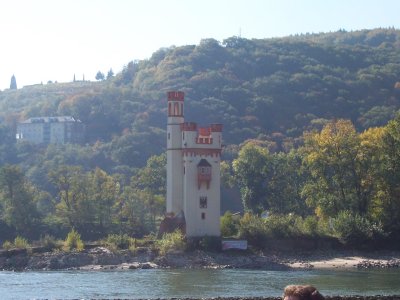 The Mäuseturm
Then came the Niederwalddenkmal, standing high above the vineyards of Rüdesheim

The Niederwalddenkmal, seen from the river
Until we rounded the final corner and Rüdesheim came into view.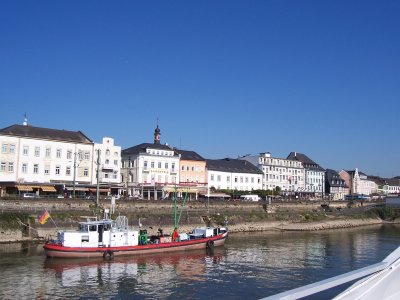 Rüdesheim waterfront
Here we left the river behind us and stopped in the town for lunch.

Rüdesheim
The final part of the walk took us back through the streets of Rüdesheim…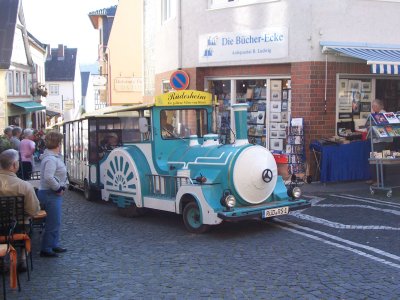 One of the "trains" that takes visitors on rides through the vineyards of Rüdesheim
… and up the hill at the back of the town, back through the vineyards to the youth hostel where the cars were waiting for us.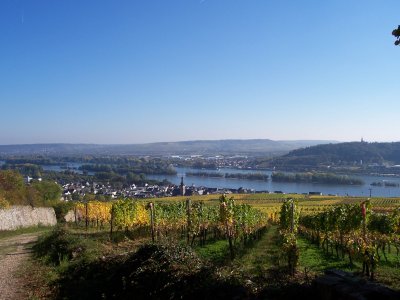 A last look back towards Rüdesheim and the Rhine