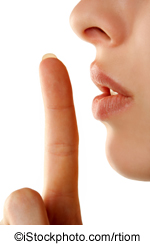 … or how to take a shower after 10pm in Germany.
If you rent a flat in Germany, or even if you own property, you are usually bound by something called the "ortsübliche Ruhezeiten".
Ruhezeit is quite simple to translate – quiet time.  It is the time when you have to be quiet, i.e. not make a noise that could be heard outside of the flat.
That's the easy part.
ortsüblich is one of those words that tries to define something, but fails.  It literally means "the usual times for where you live".
So the ortsübliche Ruhezeiten are the usual times to keep quiet in the place that you live in.
With so many things well defined in Germany, it is almost a term that does not fit in.  It is not definite.  It does not say in your rental contract that you have to be quiet between two particular times, it expects you to find out what ortsüblich is and stick to it.
Failure to do so could land you in trouble with your neighbours, your landlord, or even with the local police.
But because nothing can be so loud during the Ruhezeiten that it is heard outside of flat or property, the usually means that you cannot do things like drilling holes in the wall to hang up a picture, or put furniture together, or in some cases even use your washing machine.
It's no use, when you move somewhere new you just have to ask the neighbours (or ask your landlord for clarification).  Although a good tip otherwise can be to look on bottle banks, as they often do show the exact times that bottles can be placed in them.
Typical ortsübliche times that I have encountered are 1pm to 3pm and 8pm to 6am.  But there is no guarantee that this is the same everywhere, even neighbouring towns can differ theoretically.
But what is usually standardised is the so-called Nachtruhe – or quiet time at night.  This is legally set at most places to be from 10pm to 6am, which is one of the reasons why a lot of parties and festivals close at 10pm – to stay open longer they need to apply for an exception to be granted.
So regardless of what any other local rules may say, you do have to make sure you do not make too much noise after 10pm at night.
One of the most discussed issues here used to be using water after 10pm, if the running water could be heard by other people in the same building.  Some rental contracts used to even forbid taking or bath or a shower after 10pm, until eventually a court case came up which had to decide whether someone working a late shift and therefore not able to take their shower before 10pm was allowed an exception.
And guess what?  Not only was the necessity seen to grant that exception, there have been more cases since which have led to some solid rules on what is allowed and what is not.
So here they are, the rules for taking a shower after 10pm in Germany.  (Although this is not legal advice on my part, so consult a lawyer first if you want to make sure):
1. Neighbours have to accept the sound of running water, even after 10pm
2. The bath or shower must not last longer than 30 minutes.