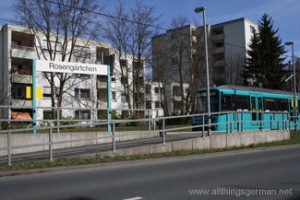 For the past few years the stations along the U3 line from Frankfurt to Oberursel have one-by-one been re-built.
The main reasons for this have been modernisation.  The station at the end of the line had been just a provisional platform due to the line being shortened, and new signalling and information displays were installed.
Another was to add more capacity to the system, as many of the older stations had a maximum length of 50m, which equates to four carriages.  Now all platforms are 75m long for the six-carriage trains that run on weekdays.
But one of the most important reasons in my opinion was to make all of the stations "barrierefrei", ie. to make the platform the same height as the floor of the train.
When the line was first constructed there were no platforms at all.  The stations were usually nothing more than a shelter where the tram stopped and the passengers had to go up a flight of steps in the tram doorway.  (Apparently there was an exception provided by one carriage which had a low-level floor, but this was taken out of service as it lacked its own brakes).
Then at some point the platforms were introduced, although these were still not at the level of the trams.  Originally the line was used for goods traffic as well, and the flanges of the goods wagons had to be able to pass over the platforms, and these were wider than the trams.
Eventually proper platforms were introduced, which were 56cm high.  That left just a single step up of 24cm to enter the new U-Bahn trains and many of the older type of trains still had a step in the doorway.
The re-built platforms are all 80cm in height, with ramps at the end of them for wheelchair access, making it possible to get onto a train without going up or down steps at all.
And with the Hessentag only a few weeks away, the final three stations are now being hurriedly upgraded.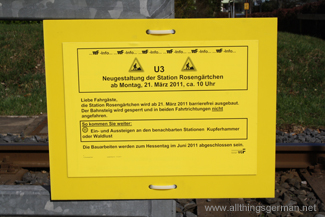 Lahnstraße, which was a "relatively" new station compared to much of the line, is now closed in both directions, and Oberursel Bahnhof has temporary platforms whilst it is being re-built.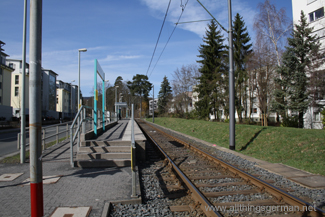 Rosengärtchen, our local station, the newest on the line and one of only two that are single-track, was left until last.  Work starts on it tomorrow, so the station will be closed for approximately three months.  During that time we will have to walk to one of the others nearby.