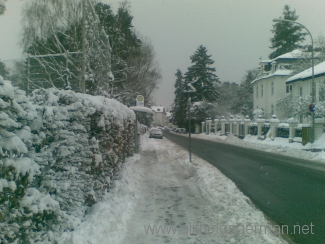 Last winter many towns in Germany were criticised for not doing enough to prepare for the hard winter months. In fact, when I think about it, the last TWO winters have been very cold and with lots of snow here, and in some cases I had the feeling that the side roads were not being gritted or cleared. There were days when it was almost impossible to get off my parking space and I resorted to taking the bus into town to get to my appointments.
Now Oberursel, at least, is confident that it is well prepared for the 2011/2012 winter, and the new winter service came into force last Monday. At the same time, the mayor has made a point of reminding the residents that they have snow-clearing responsibilities as well!
The department responsible for clearing the town's roads has increased the amount of salt that they store in advance considerably – over three times as much compared to last year. They will also be working together with local farmers and construction companies to clear the snow by actually picking it up and moving it somewhere else.
However whilst the department is responsible for the main roads in the town, they are only required to grit or clear them if they are considered important for the flow of traffic or dangerous for one of a number of set reasons.
"Important" roads are the main roads leading through the town or the ones going to the main shopping areas. The "dangerous" ones are defined as being on a gradient, with a sharp corner, bridges, important crossings, or at STOP signs.
But whilst that may seem quite restrictive, they will be attempting to keep these roads clear – in particular the bus routes – from 3am to midnight.
It's a different story as far as the footpaths are concerned. Here it is the responsibility of the land-owner bordering with the path to keep them free of ice and snow between 7am and 8pm. "Free" is defined as a pathway 1.50m wide, and neighbours should make sure that they pathways connect with each other. And you are not allowed to shovel the snow onto the side of the road!
Not only can land owners be held liable if someone has an accident on a path that they should have cleared, but apparently the local police will be carrying out random checks as well.
Which just leaves the question of what happens in the other roads. The town has actually published the list of where each of the gritting vehicles will be going. In our case, only the junction to the main road is on one of the tours, which is strange, considering that one of the bus routes goes along it.
It's a good thing I have winter tyres on my car!