A few weeks ago, I spent the weekend walking along the Rhine valley from Rüdesheim to Oberwesel with a group of my fellow Scout Leaders. Over the next few blog posts, I am going to talk about this area and some of the sights there.
We had stayed the night at the youth hostel in Rüdesheim, located on a hill above the town itself. This position was ideal to enter the many public footpaths that weave their way along the vineyards.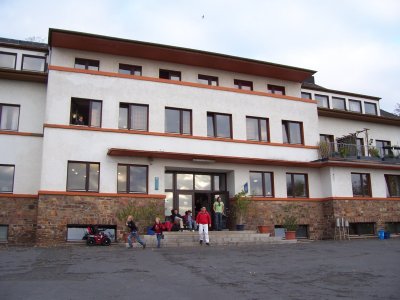 The youth hostel in Rüdesheim
The youth hostel itself had been very basic, and had cost 16,90EUR for the night with breakfast. Unfortunately we had been given the wrong time for breakfast and even when we turned up at the right time we were, at first, sent away again because it was not ready.
We left the hostel at 9am and headed out on the paths above the vineyards, with a magnificent view looking down towards Rüdesheim and the Rhine.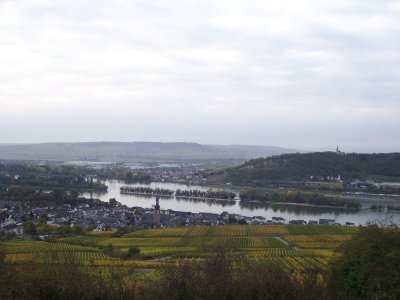 Looking down towards Rüdesheim
Eventually we started to climb upwards and came to the cable car, that brings visitors up from the town.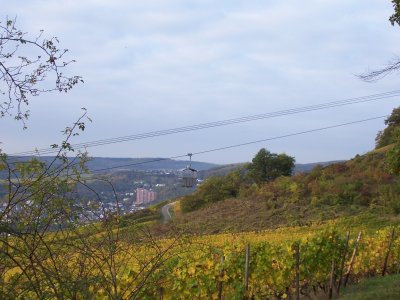 The cable car hangs above the vineyards
The visitors are heading for a number of attractions – there is a restaurant located near the end of the cable car itself, and also a small temple that has been restored and rebuilt in recent years.
But what most of them come to see is a slight walk further along the valley – the Niederwalddenkmal – a 38m high monument built at the end of the 19th Century, on top of which stands a 12.5 high statue of Germania.
The monument was commissioned as a symbol of the new Germany, which had just beaten French troops back to Rhine. Indeed, at the time it was built there were apparently French troops still on the other side of the Rhine. Indeed, it is built as a position far away from any of the nearby towns, but is more than large enough to be seen from the other side of the river.

The Niederwalddenkmal
As it happens, such monuments are unusual in this part of Germany. So many have been either destroyed by war or deemed unappropriate. It is awesome to stand at the base of the steps and look up towards the statue – an experience that is hard to find elsewhere.
Leaving the monument behind us, we carried on along the vineyards towards Assmannshausen…