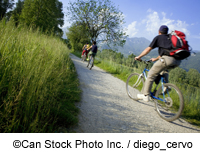 Once you have decided to visit the Hessentag in Oberursel next month, you may be faced with the difficult decision of how to get there.
This week I have looked at the options available:
Each of them has their benefits, but one that may be particularly interesting is a combination of two of them, and take the bicycle on the train.  That way, you can get around the town easily, but do not have the long ride to get there in the first place.
And if you live in an area served by one of the RMV train lines, then this will actually be possible – as long as you follow the rules.
These are:
You cannot take a bicycle in the U-Bahn between 6am and 8.30am, or between 4pm and 6.30pm.
In the S-Bahn you must stay within the designated area for cyclists
People with prams and buggies, and the disabled have priority
You must stay with your bicycle and hold on to it – you will be held liable for any damage that it causes
I have seen that last rule ignored so often, which not only can cause accidents when the cycle falls over, but they are often put across the doors in the U-Bahn and are therefore in the way for people to get out.  Please do not be one of those cyclists who takes the "use another door then" approach.
It is also worth noting that you cannot take bicycles on buses within Oberursel, and even on the train the driver takes the ultimate decision as to whether there is space or not.
But the good news is that taking a bicycle in the S-Bahn or U-Bahn with you does not cost anything extra!  You just need your normal ticket, so if you are planning on going from one corner of Oberursel in a short time, this combination may be the best option for you.