This is the fifth part of the series about my weekend walking between Rüdesheim and Oberwesel. Part four can be found here.
The next day started with breakfast at the youth hostel (Jugendherberge). The youth hostel in Oberwesel is very modern, with en suite rooms and even a swimming pool and bistro in the basement.
The youth hostel in Oberwesel
Leaving the youth hostel, we crossed the wooden bridge to the castle that overlooks Oberwesel. From here, there was a magnificent view down towards the river. In daylight you can clearly see which parts of the castle have been modernised.
Schloss Schönburg
Rather than zig-zagging downwards through the woods on the path that we had taken the night before, we decided to use the Elfenley – a footpath that passes behind the castle and then carries on down behind the roofs of the houses towards the town centre.
The start of the Elfenley (Fußweg zur Stadt)
The path is narrow and in places there are handrails on the side to hold on to. At one point there was no handrail and it became very narrow, uneven and steep – you need a good head for heights for the first part after leaving the castle grounds!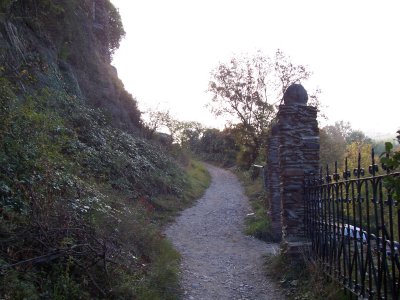 Part of the Elfenley behind the castle, leading downwards to the town centre
As we descended, the town and the river came ever closer. It was a strange feeling to be standing on the same level as the church tower! The path continued to wind it's way around the face of the hill, until, at an electricity sub-station, it ended and we found ourselves on one of the streets in Oberwesel.
The view of the church and the Rhine from the Elfenley
From here, we headed towards the river and crossed the main road by footbridge. At the river, we found the landing stage for the Köln-Düsseldorfer boats and bought tickets for the return journey to Rüdesheim.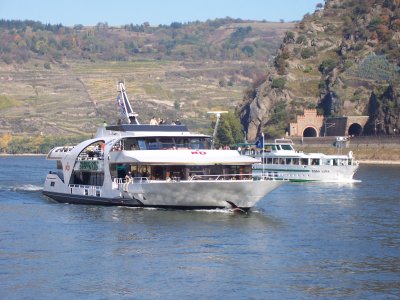 The boat approaches the landing stages in Oberwesel
Soon the boat came into view and we went on board and found a table. Now we could sit back and enjoy the journey…