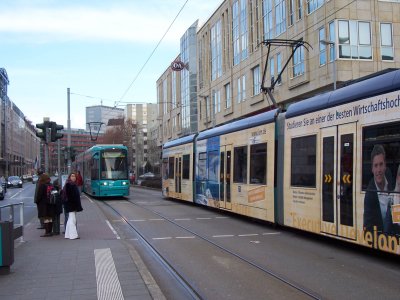 The travel information that was issued several days ago for Frankfurt am Main has proved not always to be effective.
On Thursday, one protest caused the station "Dom / Römer" to be closed, and today the protests have moved around the city causing various tram lines to close at one time or another.  The area around the main station (Hauptbahnhof) was also affected.
Since there is an approved march taking place in the city tomorrow, new travel information has been issued.
Between approximately 12 noon and 5pm the tram lines 11, 12, 16, 18 and 21 will be shortened even further as will bus route 36.
The stations "Willy-Brandt-Platz" and "Taunusanlage" on the U-Bahn and S-Bahn lines also remain closed.
Further stations may be closed on order of the police if deemed necessary.
For up-to-date travel news in German on Twitter follow @vgf_ffm or @allthingsgerman for updates in English.