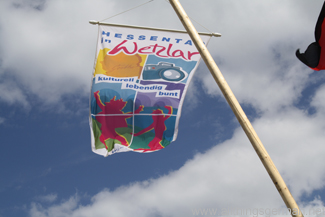 Having spent ten days last year writing about the Hessentag in Oberursel, my curiosity got the better of me and I decided to visit the event this year in Wetzlar.  Although I did not set out to do a direct comparison with last year, the headline in the Oberurseler Woche claiming "Oberursel war schöner" (Oberursel was nicer) intrigued me as well.
And so it was that I set off on Friday morning to drive to Wetzlar, which is about 45 minutes by motorway from Oberursel.
I followed the signs from the motorway exit to the car park, and my heart sunk when I saw which one the route had taken me to: P12.  The furthest car park away from the Hessentag area!
Luckily there was a shuttle bus to take me into town.  Unluckily it did not actually leave from the car park, so my Hessentag experience started with a short walk through a field alongside a river, to where the bus was waiting.  It must say something about the distances involved that there were even toilets laid on for people waiting for the bus at this point. [Read more…]