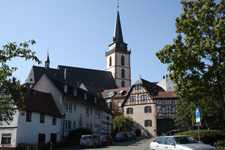 Since the Hessentag last year in Oberursel, the number of items relating to the town have increased dramatically on this site.
At the same time a number of sub-sites for local events and a ticker have been started, meaning that the information about the town has been spread out, whilst the blog has been a mixture of Oberursel and non-Oberursel topics.
To reflect the importance of Oberursel to the AllThingsGerman.net site we have decided to bring all of the topics connected with the town together, and to give the blog back to its original purpose: information about the culture, politics and places to visit in all of Germany.
If Oberursel does not interest you, then stay here on the blog as you have done until now.  Otherwise, please visit www.allthingsgerman.net/oberursel and see the new site for yourself.  Don't forget to sign up for the new e-mail newsletter as well!