On Saturday three Oberursel residents were presented with awards for their dedication in donating blood.
Wolfgang Westenburger (57),  Klaus Hallert (66), and Norbert Wehrheim (63) had all come to the monthly blood donation at the Red Cross building in the Marxstraße, to donate – as they had done so many times before – 500ml each of their blood.  Exactly how often they have done this in the past is recorded and so it was that they were celebrating their 100th, 125th and 150th donations respectively.
"We have never had this combination in Oberursel before" remarked Jürgen Swoboda from the Red Cross blood donation service.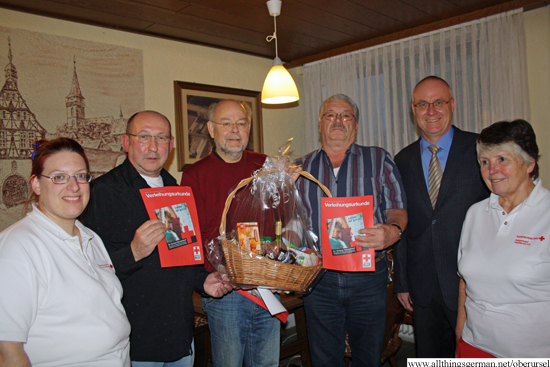 Wolfgang Westenburger, Klaus Hallert and Norbert Wehrheim, with Jürgen Swoboda (right) from the Red Cross blood donation service, Michaela Tappenden (left) and Sigrid Rieschel (right) from the Oberursel Branch.
Joining the group of people who have now donated blood 100 times was Wolfgang Westenburger from Bommersheim.  He received a wristwatch from the blood donation service with his name engraved on it, and told of how he started donating during his national service and later continued by donating throught he Red Cross.
Klaus Hallert has now donated blood 125 times, and comes from a family of donors.  His father reached 109 donations and his son has also been over 20 times.
But it was Norbert Wehrheim who was the had reached the amazingly high number of 150 donations, having started when he was 18 years old.  Jürgen Swoboda commented "donating blood that often and helping others is unfortunately not something that everyone does".
All three of them received a certificate and a badge of honour from the Red Cross blood donation service, and a hamper from the local branch.
Anyone who is in good health and between 18 and 71 years old can donate blood, although you must not be older than 64 to donate for the first time.  To make sure that there are no complications, a doctor checks the health of all donors in advance.  The blood donation itself only takes a few minutes, but the whole process of registration, check-up, and the snack afterwards can take around an hour.
That hour can save lives, because in Hessen alone 5,500 people must donate blood each week in order to create sufficient supplies for the hospitals in the area.
The blood donation in Oberursel takes place on the 2nd Saturday in each month at the Red Cross building at Marxstraße 28 between 1pm and 6pm.  A further two appointments take place each year at the fire brigade in Weißkirchen, the next one being on Boxing Day (26th December) between 1.30pm and 5.30pm.