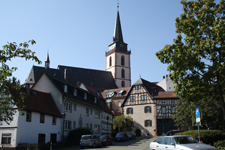 A tour of the old town (Altstadt) part of Oberursel is being offered on Saturday, 1st December, 2012 at 2pm.
The tour starts in front of the Vortaunusmuseum at the Marktplatz at 2pm and costs €3 per person.
Being the start of Advent, the tour will be slightly different, Advent and Christmas poems being read and home-made biscuits to eat.