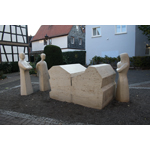 A tour of the war memorials in Oberursel is being offered on Sunday, 8th September, 2013.
Led by local historian Angelika Rieber and Dietrich Andernacht the tour encompasses memorials in the town starting in the 19th century and covering both World Wars and also the latest victims' memorial in memory of those taken from Oberursel against their will never to return.
The tour starts at the Christuskirche in the Oberhöchstädterstraße at 3.30pm and costs €3.
Related blog posts