Today Germany is commemorating the 80th anniversary of the Reichspogromnacht, also known as Kristallnacht or in English as the "Night of Broken Glass" when, on 9th November, 1938, Jewish homes, shops, businesses and synagogues where attacked.
Oberursel was no exception on that night, and it is reported that headstones were damaged in the Jewish cemetery in Altkönigstraße, families attacked and at least two men being arrested and deported to the Buchenwald concentration camp.
But whilst in other towns Synagogues were set on fire and destroyed, Oberursel's survived.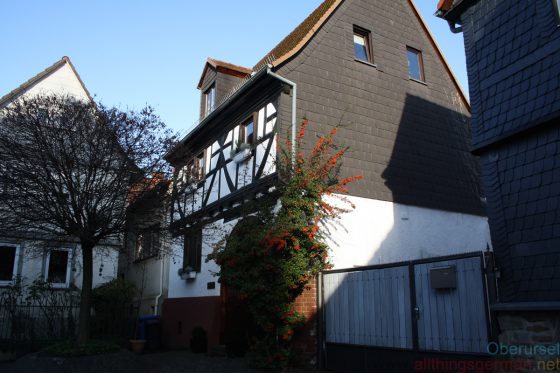 Weidengasse 9 in Oberursel – the Synagogue was located behind this building
Local historian Angelika Rieber tells the story each year during her tour about Jewish life in the town.  The Synagogue itself was located behind a house in the Weidengasse.  Built in 1803, the building was no longer in active use by November 1938 due to the dwindling number of Jewish families left in the town.  Those that still lived here, travelled to Bad Homburg to take part in the services there.  Eventually, in the summer of 1938, the building was sold to a non-Jewish owner.
The Synagogue building not only survived the Reichspogromnacht, it also survived the Second World War, probably making it one of the few Synagogues in Germany to do so.
However, despite this status, it was not preserved and was eventually demolished in the 1960s.  The house in the Weidengasse that stood between it and the street remains, and now displays a commemorative plaque.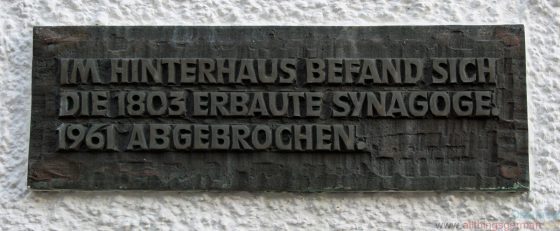 The commemorative plaque in the Weidengasse