It was at Easter 1967, 50 years ago, that the Epinay-Platz in Oberursel officially received its name.  The town twinning between Oberursel and Epinay-sur-Seine in France was only three years old at the time.
This event will be remembered on Saturday, 25th March, 2017 when a rally will be held on the square between 11.30am and 1pm under the title "Kundgebung für Europa".
Epinay was the first town that Oberursel twinned with, and the twinning itself is still going strong.  But considering recent events and the current discussions taking place on the future of Europe it was been decided not to celebrate with a festival, but with a rally, with speeches, stalls and music.
The speakers will be:
Brigitte Espinasse, Epinay's treasurer and town representative for twinning activities
Hans-Georg Brum, Oberursel's Mayor
Dr. Christoph Müllerleile, a witness to the events of 1967.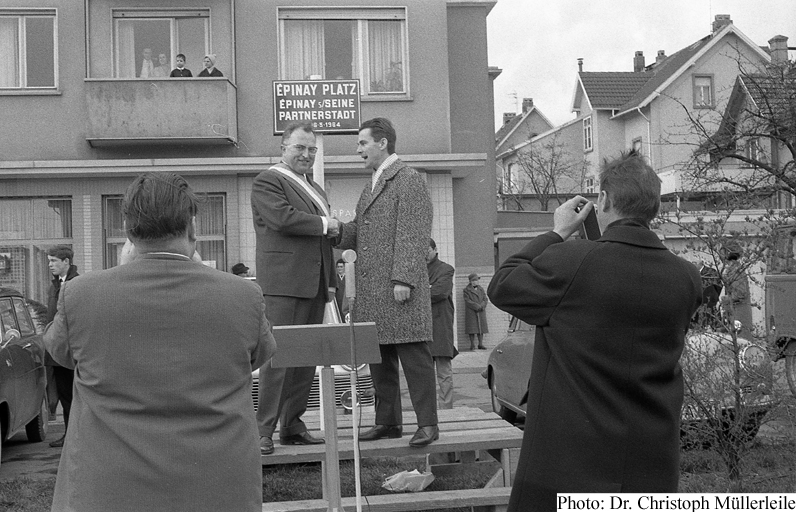 On Sunday, 26th March, 1967, the Epinay-Platz was officially named in a ceremony with the then Deputy Mayor of Oberursel, Karlheinz Pfaff (right), and the representative from Epinay, André Lesenne.  Until then the square had been called the "Kumeliusplatz".  The "Place d'Oberursel" in Epinay was named in June of the same year.  The photo was kindly provided by Dr. Christoph Müllerleile.