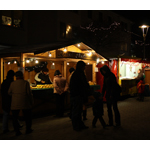 The Christmas Market in Bad Homburg runs from Friday, 25th November until Friday, 23rd December 2011.  It is open from 11am to 9pm and is split into two halves.
One part is in front of the Kurhaus in the centre of the town, whilst the other is at the castle (Schloss) at one end of the pedestrian precinct.
Both locations have car parks and most bus services in the town run within a few metres of them.