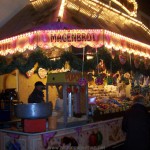 The 2012 Christmas Market (Weihnachtsmarkt) in Oberursel starts on Thursday, 29th November and continues until Sunday, 2nd December.
The market is open Thursday 4pm-9pm, Friday 2pm-10pm, Saturday 12pm-10pm and Sunday 12pm-9pm, and takes place in front of the town hall (Rathausplatz), along the "Vorstadt" and "Strackgasse", and on the market square ("Marktplatz") with around 100 stands in total.
The Marktplatz is the location for the "middle-ages" market, whereas a miniature steam train will be offering rides on the Rathausplatz.
Arts and Crafts
Inside the town hall an arts and crafts fair will be taking place with around 40 stands, including those from the twin towns of Epinay-sur-Seine, Rushmoor and Lomonossow.  The fair closes an hour before the Christmas market, except on Thursday.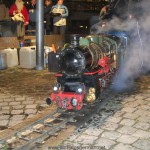 Concerts
The "Hospitalkirche" Church in the Strackgasse will be hosting a series of concerts over the weekend, with entry free but a donation requested.
Friday 6pm: Flute ensemble from Oberursel music school
Saturday 6pm: Crotchets – the Klezmerensemble of Oberursel's music school
Sunday 6pm: Youth orchestra and recorder group from the TV Stierstadt.
Advent market in the museum
The Vortaunusmuseum at the Marktplatz will be holding an advent market on Saturday 10am-6pm and Sunday 12pm-6pm.
Seniorentreff
The "Seniorentreff" will be holding their own Christmas market at Hospitalstraße 9, where they will be selling knitted socks and other hand-made items.  There will also be refreshments available including mulled wine.  The opening times are: Friday 2pm-9pm and Saturday 10am-9pm.
4 Rooms Open Air Winter Party
The Café Portstrasse will be holding an "Open Air Winter Party" next to the U-Bahn stop "Altstadt" on Thursday between 6pm and 8.30pm, with hot drinks, music, twists, sausages, and a fire show and young people from all parts of the town are invited to start or end their Christmas market tour here.
Road closures
The following roads will be closed during the Christmas Market opening times:
Obere Vorstadt
Obere Strackgasse
Untere Marktplatzstraße
The  Untere Hainstraße will be open to two-way traffic.
The Ackergasse will be closed where it meets the Schlenkergasse, allowing traffic to flow via the Schlenkergasse and Weidengasse.
The car park next to the town hall will be closed from Tuesday, 27th November.
The normal market on Wednesday and Saturday will be moved to the Epinayplatz.