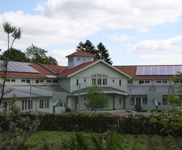 The Waldorf School in Oberursel (Freie Waldorfschule Vordertaunus) is holding a "Sternenfest" on Saturday, 24th November, 2012.
At 12 Noon there is a chance to see the school itself, followed by a musical introduction.  A bazaar will then follow between 1pm and 5pm, following by singing.
The school is located in the Eichwäldchenweg, but parking spaces near the school are limited.
To go by train, take the U3 line to Kupferhammer and cross over the main road to enter the Eichwäldchenweg.