12 years ago a new playground was built on the border between the residential areas "Im Rosengärtchen" and "Camp King".  Back then it was a project involving local parents, and today the playground connects the two areas.  On four mornings a week, it is even used by the charity Aktion Kinderparadies e.V. to provide daycare for groups of young children.
Now the playground has been given a makeover by the town's own BSO workforce, who were praised for their work by Mayor Hans-Georg Brum during the opening ceremony on Friday, 22nd Mary, 2015.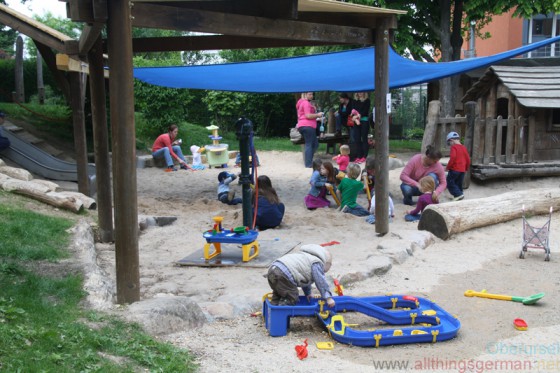 The children enjoyed playing with the water games and searching for sea shells in the sand pit
The parts of the playground that have been the most attention include the seats and the area for water games.  But the most significant change is to the large slide in the middle.  New wooden steps in a variety of forms have been added to make it easier to climb up the hill from the sandpit, and the wooden roof has also been redone.
The wood for the work came from Oberursel's own forest, as Alderman Christof Fink was keen to point out.  He also made it clear how important the "Aktion Kinderparadies" is for the childcare in the down, but kept his speech short and suggested simply "let's celebrate".
The children did not need telling twice and they headed for the large sandpit to search for shells.  For the right combination of colours they were able to collect their prize at the buffet.  Of course the slide and the water games were popular as well.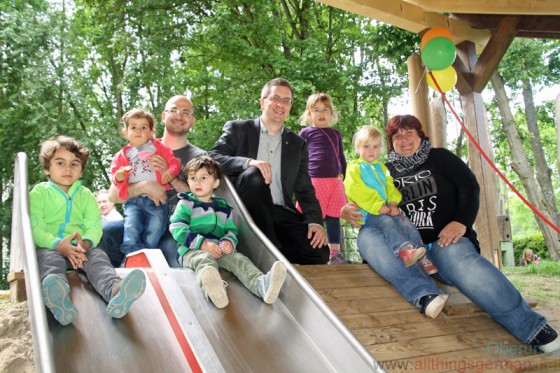 Alderman Christof Fink (centre) on the re-vamped slided with one of the fathers Alireza Dorfard (left), daycare worker Marion Meuer (right) and some of the children at the official opening
The daycare at the playground is available Tuesday to Fridays between 9am and 12noon for children aged between 18 months and 3 years.  Further information is available from the charity's office at Ackergasse 28.
This article appeared in German in the Oberurseler Woche on Wednesday, 3rd June, 2015.