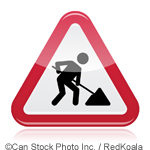 The start of the school holidays on 27th July, 2015, also sees the start of work on the bus stop at the Rushmoorpark to make it more accessible.
With the project being financially supported by Land Hessen, the existing bus bay on the Feldbergschule side will be extended and fitted out with tactile elements.  The stop on the other side for travellers heading out of town will have a new bus shelter erected.  The work will also renew and improve the passenger protection system making it disabled friendly.
The work is set to take six weeks and cost around €140,000.
Diversion
Traffic travelling out of town will pass through a single lane through the roadworks, heading into town there will be a diversion along An der Heide, then Königsteiner Straße, and finally Füllerstraße.
Buses
Buses on routes 41, 252 and 261 will use the same diversion.  They will not stop at "Feldbergschule" when travelling into town.
Travelling out of town they will stop there, but the bus stop will be moved several metres further out from the town centre on the corner of the "Kronberger Straße".